The school motto translates from Latin as "Life in All Its Fullness". It reflects our mission to help students live a life of significance and to succeed in life as global citizens. It is our vision to become a world-renowned school that embodies a holistic educational philosophy to prepare our students to live full and significant lives as adults.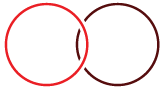 Benevolence
(Attitude of Kindness)
Perfect virtue
(Honesty/Integrity)
Goodness
(Good Human Being)
The branches of the tree are shaped to resemble the Chinese character "仁", which is a highly significant and meaningful character in both the Chinese language and culture. It refers to the virtues of "benevolence", "goodness", "kindness" and "integrity". This reinforces our belief that to live a full life and be a complete person, we must remember that we are part of a community and we need to be a blessing to others.